If you don't know who Greg Glassman is, shame shame.  He's the founder of CrossFit.  No, he didn't invent the squat, running 400 meters, or doing pull-ups, but he did integrate the best of gymnastics, weightlifting, and metabolic conditioning to form this fitness program.  
He also wrote many great articles about fitness, on a very theoretical and practical level.  Below is his theoretical hierarchy of development and an excerpt from the What Is Fitness? article.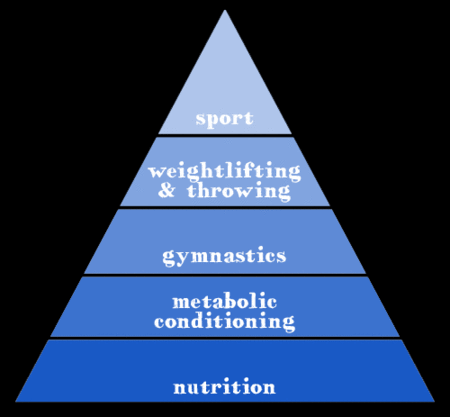 He writes:
"A theoretical hierarchy exists for the development of an athlete. It starts with nutrition and moves to metabolic conditioning, gymnastics, weightlifting, and finally sport. This hierarchy largely reflects foundational dependence, skill, and to some degree, time ordering of development. The logical flow is from molecular foundations, cardiovascular sufficiency, body control, external object control, and ultimately mastery and application.
We don't deliberately order these components but nature will.  If you have a deficiency at any level of the "the pyramid" the components above will suffer."
This is a great little nugget of knowledge, and if you've never read What Is Fitness?, then take 10 minutes right now and read it.
Yup, Luke is saying something very serious is going down.
Thursday
All Levels Class
Skill: Hang cleans
2-2-2-2-2
Beginner  Class
Skills:
1 hang power clean + 2 front squats
5 sets, increasing the weight each set
Ring work practice
Workout:
10 minute AMRAP of:
4 power cleans (bodyweight/ .67% bodyweight for women)
8 hand release push-ups
100 meter run
Women's Class
Skill: Back squat
2-2-2-2 for beginners
2×5 @ 80%, 2×3 @ 85%, 2×1 @ 90% 1 rep max for intermediate
Advanced Class
Part A x 4:
A1: 4 back squats (80% of 1 rep max)
Rest 30 seconds
A2: 15 burpees as fast as possible
Rest 3 minutes
Workout:
Power Elizabeth
21-15-9 reps of:
Power cleans (135#/93# for women)
Ring dips
Social Share